Welcome to Thomastown Paddlers
Latest News
BOOKED OUT 2017
Unfortunately we are now competely full for 2017. If you are interested in canoeing please contact PADDY MCCORMACK at PURE ADVENTURE.. If you complete a Level 2 skills course with Paddy or another provider, we will be glad to welcome you into the club. Happy safe paddling.
BOOKING NOW

OPEN
FOR BEGINNER COURSES 2017
Bookings are now open for our courses 2017. Simply click on the "START CANOEING TAB" and there you will find all the details you need to kick start your next adventure. Heres a taste of some of what we do:https://www.youtube.com/watch?v=knNLDTyztcE

Reminder to all members TUESDAY PADDLING has now finished for 2015. See you all next April!
Upcoming events:
Sept 26th: International Liffey Descent (Great to spectate also!)
Oct 11th: Robertsown Marathon (Suitable for all members)
CANOE COURSES FOR 2015 NOW FULL AND CLOSED
Thank you to everyone who has phoned about joining the club via our beginner courses. We are now full and unfortunately are no longer taking entrants. We will however welcome any new members who have passed "Level 2 kayak skills". This award can be achieved by contacting our good friend Patrick in Pure Adventure. All his details can be found here http://www.pureadventure.ie/
Tuesday Night REMINDERS
1. As mentioned, Please park on the "Mall" by the statue of Ollie Walsh and walk up/down the laneway. Make sure and keep all gates and driveways clear. Only cars carrying canoes/kayaks should park down the lane.
2. If vehicles meet on the lane, those coming up should yield, as those coming down cannot back out on roadway.
3. Memberships for 2015 are now due. These can be sorted at the "check in desk" prior to paddling. Adult: €60 Junior: €40 Student €50 and Family €150.
4. All paddlers and instructors should check-in at the registration desk on arrival. Remember its €5 per night to hire any club equipment. This goes back into renewing and updating our gear.
5. If swimming, NO DIVING is allowed from the River bank.
Thanks everyone, happy paddling and see you on the water!!
Beginner Courses 2015 NOW OPEN!
You can finally get your name in for one of our very popular introduction to Canoeing Courses in 2015. Dates are now up online here, with times to follow soon. Keep posted.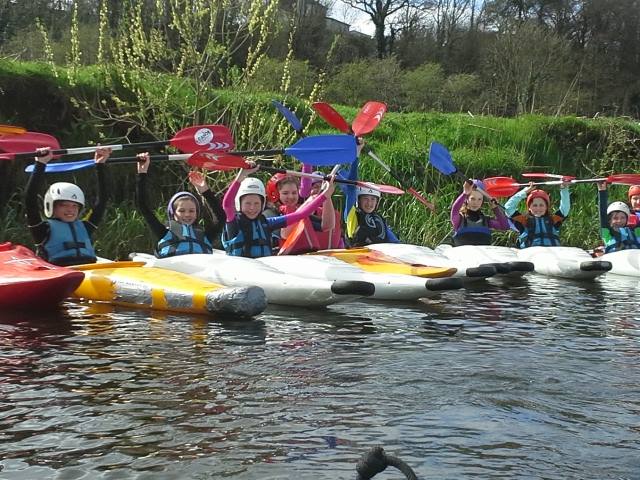 Chistmas Social Saturday December 13th 2014
Our end of year social takes place in the ewly rennovated Thomastown Community Centre on Saturday December 13th at 6.30PM. Full 4 course Traditional Christmas Dinner will be served up by Cullens. Tickets on sale NOW from Fiona in Thomastown Veterinary Clinic. Full poster here.
Brennan takes second in ICF World Classic Race Series(From KK People)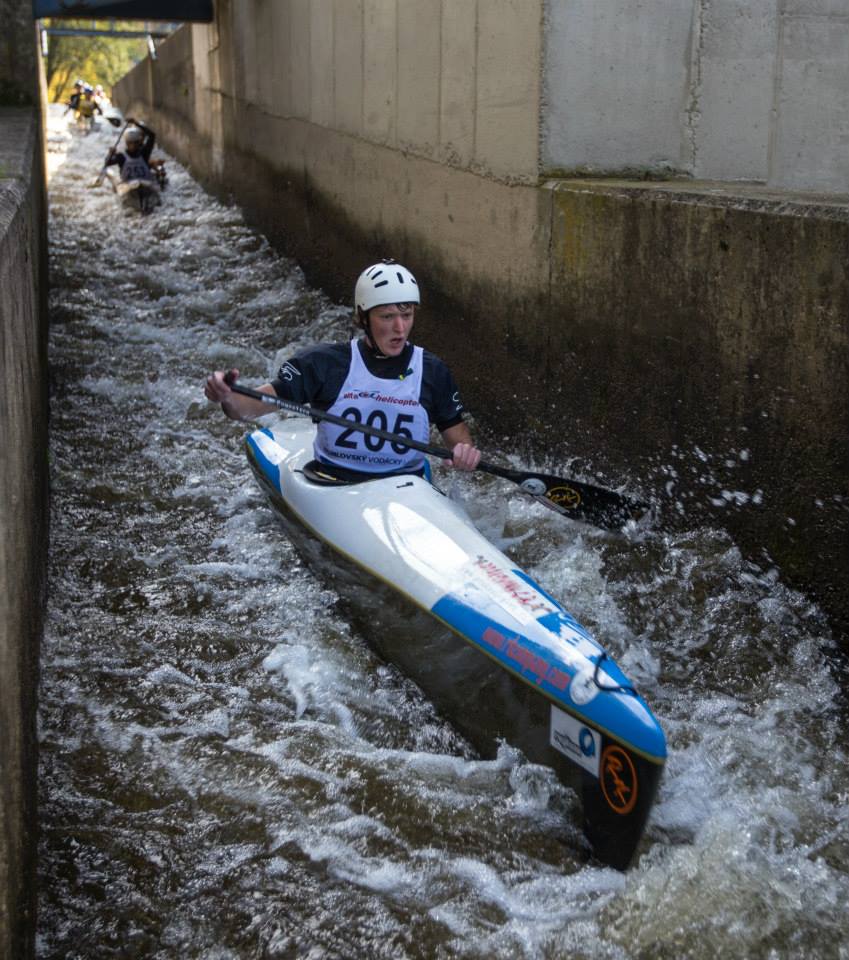 Each year the International Canoe Federation (ICF) compiles a list of eight of the best International Canoe Races from around the globe. These form the basis for a league, for which some of the top racers in the world compete to win. The eight races in 2014 were in Holland, Spain, Portugal, Australia, Sweden, Denmark, Italy, Czech Republic and our own Liffey Descent here in Ireland. Racers can choose to race some or all of these events, but the overall results are based on ones best three finishes.
Michael Brennan from local club "Thomastown Paddlers Canoe Club" had a fantastic run in the series and narrowly missed out on winning his category, the C1 class. C1 stands for "Canadian 1 or single" and is a class that Michael is only new to since midsummer. After competing in the World Wild Water Championships back in May, Brennan decided to take on a new challenge and took up the discipline of C1 racing. Unlike kayaking, where one sits down and has a double sided paddle, the C1 paddlers kneel in their craft and use a single sided paddle. This was a task in itself and meant that he had to adjust and learn a completely new type of movement.
In order to compete for the ICF title Brennan was required to complete the minimum three races. The first of which was the Liffey Descent here in Ireland. This was Michael's first competitive race in the C1 and he showed that home advantage counts, when he stormed home to take first place and the maximum 100 points towards that coveted title. A week later he jetted off to the Czech Republic to compete in the 38KM Cesky Krumlov River Marathon. The competition here was a huge step up from the Liffey Descent, but a competent and assured race saw the Thomastown local take fourth place and another 50 points in the ICF standing. Last weekend saw the conclusion of the 2014 Classic Race Series and it was to Italy and the Adige River Marathon that Brennan departed for, knowing that a podium finish would secure second place at least in the overall table. A powerful race against some top competitors saw him home in third position, meaning he finished second place in the overall standings, a fantastic achievement for a paddler so new to this side of racing. Accomplished racer Tomislav LEPAN from Croatia took the overall win.
Thomastown Paddlers continue their winter paddling for advanced and intermediate paddlers with the club Christmas Party on Saturday December 13th. Further news on the club can be found on www.thomastownpaddlers.com
WINTER PADDLING
With Tuesday evening paddling coming to a close, keep tuned as we shall be announcing winter schedule for members only during the month of September. Once the weir works have been completed, access to the river should be much easier.
SELLA DESCENT A GREAT SUCCESS
During the first 2 weeks of August 12 Thomastown Paddlers, Mams, Dads and WAGs made the trip to Ribadesella in Spain to compete in the International Sella Descent. Known for the crazy "Run in Start", where over 1000 racing kayaks dash into the River Sella's shallow waters, members of Thomastown Paddlers had some fine results. Cait Broderick finished 4th in Under 23 Ladies, only one minute of a medal over the 20KM course. Eamon Forristal continued his impressive progression by finishing 11th in the Junior K1 category. In the Senior Men's K2 race, the fastest of the day, Mickie Brennan and Tony Forristal finished in 20th place, while family duo of Dermot and Paul Forristal also competed in this class. Donnacha Brennan had a fine race coming 21st in the Senior Men's class, while David MacCormack, Alex Broderick and James Staunton also performed brilliantly. The paddlers also raced the next day in a K2 race in the town of Villaviciosa 30Km away. Mickie and Tony teamed up again, while Donnacha teamed up with Kilcullen's Dave McDonnell. Dave MacCormack partnered with Eamon Forristal for this race. Conditions were very choppy thanks to the rushing incoming tides but all had an enjoyable race. Day 3 and the K4 racing in Ribadesella. In the Senior men's race Donnacha, Tony. Mickie and Eamon combined and despite an early crash with another boat, they recovered well and finished 5th in a very tight sprint finish. Alex and James teamed up with two excellent German paddlers to take 6th. In the ladies race, Cait steering the boat, took a combined Irish/German/Spainish crew to an excellent 4th position against some really high class opposition. The racing and holiday was a huge success and who knows we may have an even bigger crew in 2015.
CANOEING NOW CLOSED FOR 2014
Our beginner classes have been a huge hit so far this year. FIVE mega wedged camps have been completed to date. Here is a pic of just some of the guys and girls who have completed a camp with us this year, after a great evening on the River Nore. We will be open for business again next year with our first camp in April 2015. We would like to once again thank KILKENNY LEADER PARTNERSHIP for there support in helping to make our sport accessable to all.
Waterford City River Rescue, Kayak Run
Happening Saturday 21st. Full details here
A great day in Graiguenamanagh June 14th
Thanks to everyone who travelled to our Fundriasing race in Graigue on Saturday. It was great to see so many out on the water and thanks so much to all the TPCC crew who helped out with times, entries, BBQ etc. Super day, thanks once again. All funds raised go towards our "Build A Boathouse" Campaign. Full details of our Clubhouse venture can be found here. Full results from the canoe races can be found here.
NEXT EVENT
Kilcullen CC Ranking Race - Athy Sunday April 27th
CANOE IRELAND CLUB CHAMPS, KILKENNY 2014
Well done to all our paddlers who competed at the recent club champs in racing, polo, slalom, freestyle, surf and boatercross. Everyone gave their all and TPCC did extremely well to finish 4th against clubs with far greater numbers.
Junior Ranking Race Saturday April 5th RESULTS!
CLICK HERE FOR RESULTS FROM TODAYS RACE:
Now taking bookings for courses 2014
Provisional dates for our beginner courses are now online. Courses are strictly limited, so book early to avoid dissappointment. There will be kids camps at Easter and Summer. Ful details and how to book a spot can be found in the "Start Canoing" section here.
Thomastown Paddlers in action.
Liffey Descent 2013 another success
Despite the lowest water levels in the history of the Liffey Descent, the large contingent from Thomastown Paddlers certainly did not let that take from their day on the Liffey. Notable results for TPCC were:
Mickie Brennan - 1st Senior Wild Water Racer
Tony Forristal - 3rd Senior Men's K1
Richie Kelly/James Stauntan - 3rd Junior K2
Alan Cullen - 3rd Boys General Purpose
Kieran Varley and Donnacha Brennan - 5th Masters K1/Senior Mens K1
Brodericks gain experience in Denmark
Cait and Alex had a very sobbering yet exciting weekend of racing at the recent Marathon Worlds in Copenhagen. Against the top racers in the world both found the competition extremely tough going but completed their races profficently and with hopes of future international trips in their minds. We wish both the very best of luck as they prepare for Leaving Cert and hope to see ye back on the water soon.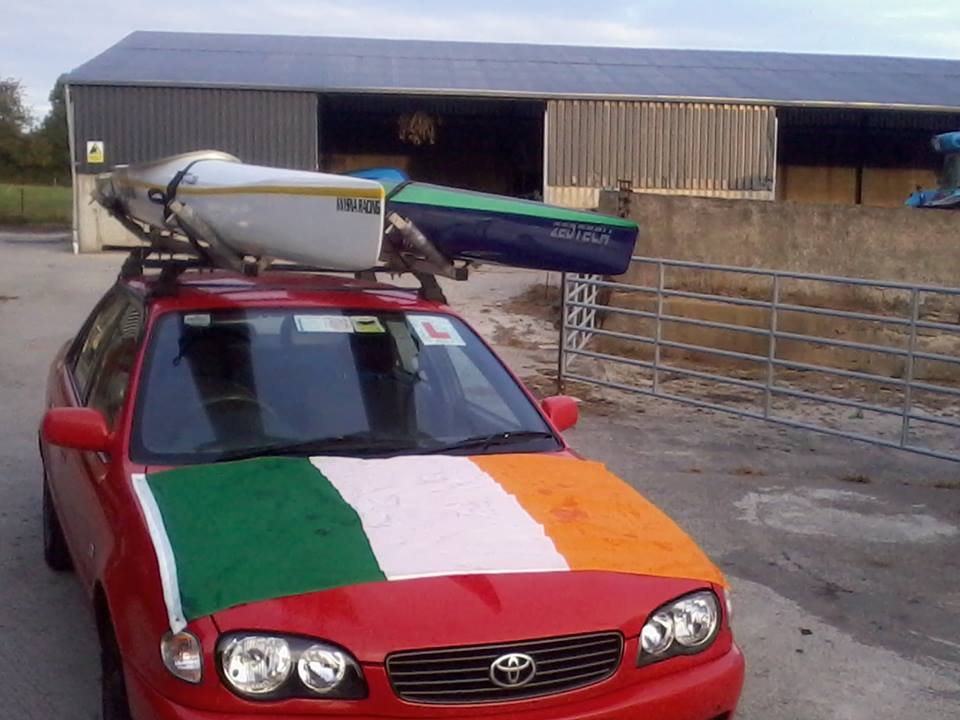 Beginner courses NOW CLOSED!
We have received overwhelming interest in our courses this year and unfortunately we are no longer taking bookings, as all places are full. If you are keen to join Thomastown Paddlers in 2013, you can still do so, but we require you to have completed a "Level 2 Skills Course" with another provider. We strongly recommend local kayaking company www.pureadventure.ie Once you have completed a course, give us a call and we can sort you out with membership, leading to continued kayaking and access to learning from some of Irelands finest kayakers.
Best of luck Mickie.
All in Thomastown Paddlers wish Mickie Brennan the very best of luck at the World Wild-Water Racing Championships on Sat June 15th. The race will be held on the River Soca in Slovenia. Keep an eye on facebook and here for updates. Here is pic of him training on the course earlier this week.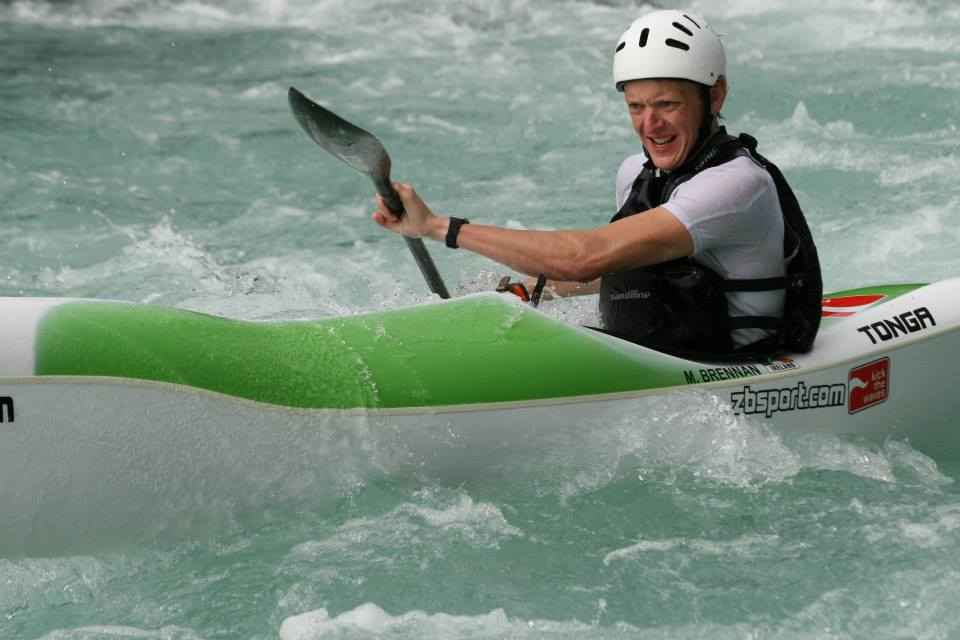 New Junior Racing Kayaks
Last week we took ownership of 3 single racing kayaks and a double racing kayak, which are specifically built for young developing racers from ages 8-15. This purchase was made possible by a grant we received from the Dept of Sport and tourism, our first ever grant (Long over-due!). Thanks to Jim Morrissey in Kayakmór who provided these beautiful boats.
Junior Race, Graigue March 16th 2013
30 juniors took to the River Barrow last weekend to compete in the annual TPCC Junior race. Full results can be found by clicking here. In this picture we have club juniors Eamon Forristal and Alan Cullen who competed in the 10KM race.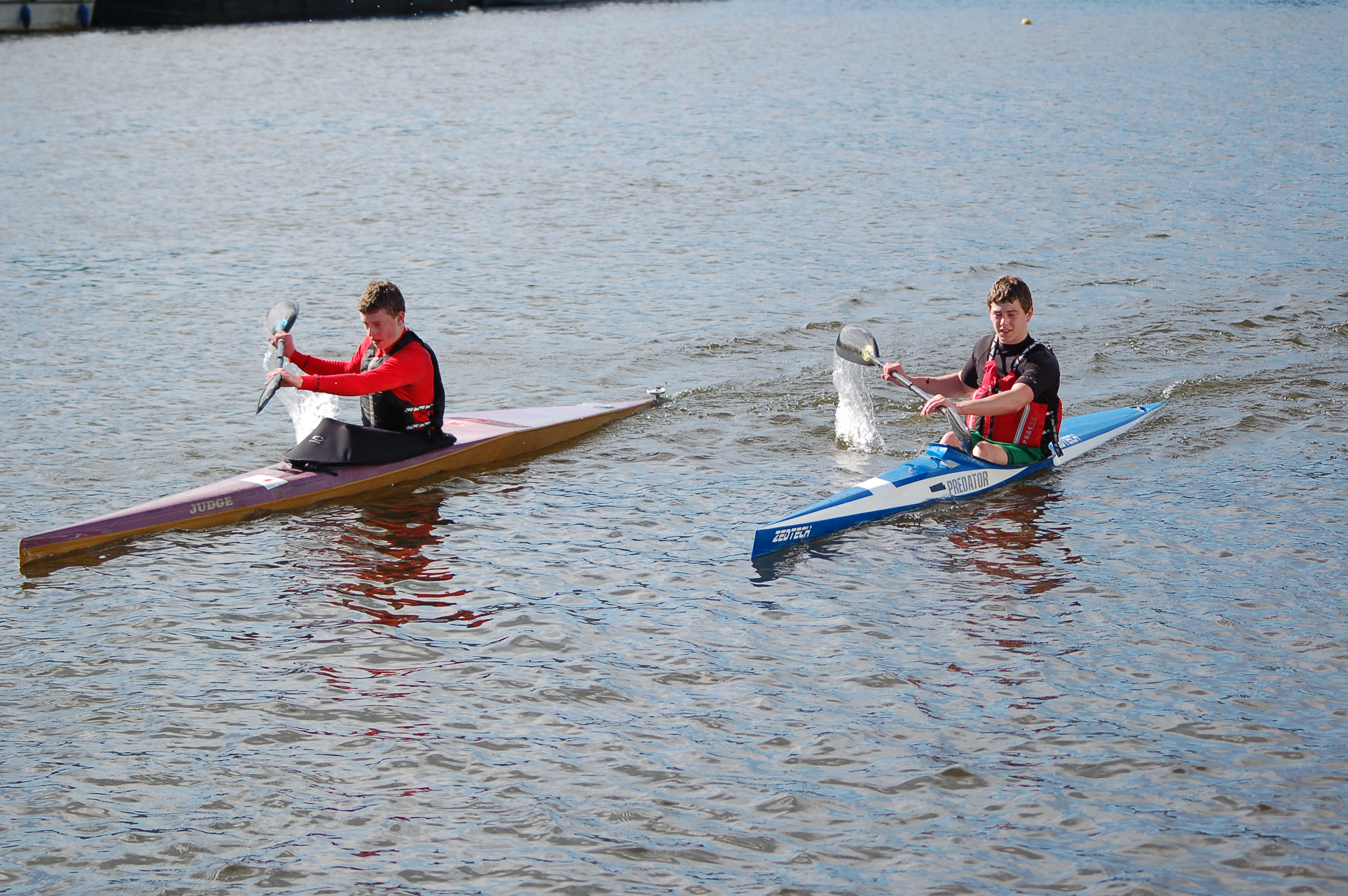 Easter Kids and Teens Canoe Camp, April 2nd-5th NOW FULL!!
Our Easter Camp is now totally full, but check out our Course Dates in May, June and July and get your name into us. Places are filling fast so get in touch ASAP as places are limited. Full details on this link and on our Facebook page. Contact Dave for more details 086-3391549
Latest news @Thomastown Paddlers, Jan 2013
A new year and all is busy as usual at TPCC. Currently we have 2 teams playing in the Munster Polo League each month in the University of Limerick swimming pool. Although new to this discipline and with little or no regular training, these nights have been really enjoyable for all involved.
TPCC will feature on "Ear to the Ground" on Thursday January 17th at 8.30PM. RTE1
Our hardened members are training hard each weekend on the water and in the gym on Tuesdays and Thursdays. Gym session start at 6.30PM and include a run beforehand.
Liffey Descent K1 winner Mickie Brennan is currently leading the way in the winter "White Water League". These races are for elite White Water Paddlers over some very "bumpy" rivers indeed.
Thomastown Race
The clubs annual ranking marathon race was held earlier this month on the Nore with great success from many club members. Highlights included wins by Mickie Brennan and Cáit Broderick in divisions 1 and 4 respectively, with fantastic results in all classes from club members. Special thanks go out to all who were involved in organising the race, which was run without a hitch thanks to the work of all those who helped out.
International News
Congratulations to Mickie Brennan on his fantastic performances at the wild water World Championships in La Plagne, France in June. Mickie had great results in both the sprint and classic races at this event, finishing in the top 30 of each event, just seconds off the winning time. Meanwhile in marathon canoeing,
Cáit Broderick has been selected to represent Ireland at the World Marathon Championships in Rome next month, following a very successful qualification campaign this summer. Cáit will race in the girls U18 K1 division at this event. We wish her the best of luck representing both Thomastown and Ireland in Rome.
Summer Barbeque
This Sunday 2nd September sees the clubs inaugural summer BBQ take place by the river at the new clubhouse. There will be lots of fun and food to be had, so bring families and friends and get involved, with canoe races, a mini triathlon and lots of other events to be held! The outlook weatherwise as of Tuesday is for fine, dry weather, so head down to the club at 2pm on Sunday!
Canoe Polo
Thomastown entered a team in a major canoe polo competition for only the second time earlier this summer in Clondra, Longford. The team moved up to division 2 this time around, and performed admirably despite tough opposition, finishing 7th. The focus will switch to the indoor pool league as winter approaches, with pool sessions becoming a regular fixture over the next few months.
Upcoming Events
We will soon be reaching the peak of the racing season, with a large number of races approaching after a lull in recent weeks.
2nd September – Club Bbq (2p.m.)
9th September – Lower Liffey

15th September – Galway race

21st September – Robertstown

29th September – Liffey Descent

13th October – Barrow Descent
Please note that the start time of the Lower lIffey may be 11a.m. to faciltate the all ireland that day, keep an eye on the sites below for updates.
As the evenings get darker, Tuesday night paddling will soon wind up for the season. However weekend paddling will continue into the winter, so make sure the club has your number for texts!
Reminders
If all involved in club paddling could remember to put their boat, paddle and helmet away, and hang up lifejackets and spraydecks at the end of each night, sessions will run more smoothly.
Also, anyone considering paddling in the long term may want to look into purchasing roof racks for boat transport, especially for winter paddling. These can be purchased relatively cheaply in most car shops (e.g. Halfords) or online ( see micksgarage.ie).
Congratulations
Congratulations to all those who completed a beginners course this summer. Certificates will be awarded this Tuesday to all of these paddlers. Beginners courses have finished up for this year, but if you know of anyone interested in taking up paddling, more courses will be run next summer. Dates will be finalised at the AGM next year, keep an eye on the websites below for updates.
www.facebook.com/thomastownpaddlers
Also, see the following sites for racing updates:
www.facebook.com/groups/278017270919/
(Canoe Marathon Ireland page)
Thomastown Paddlers Wild Water Race 2012.
See Pic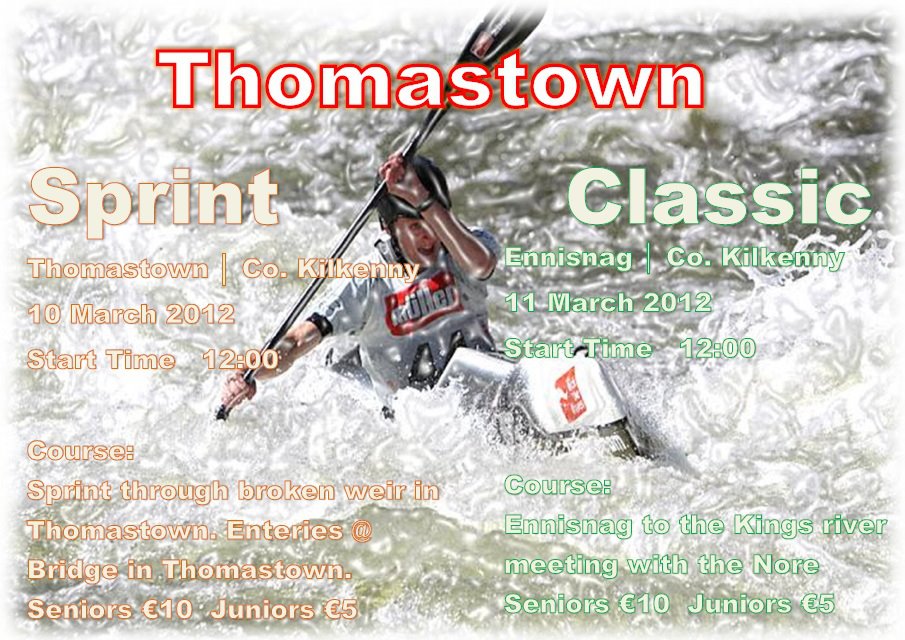 Pictures
Latest pictures from 2011 season available to view in our gallery page.
Winter training
Winter gym training is in full swing. Training is on Tue, Wed and Fri nights from 7-9PM
Munster Polo League(MPL) update
We have now competed at two nights of the MPL. This is only our 2nd ever polo competition and we are competing in the Division 2 category. Our team has been doing very well winning four of our 6 games to date. We're still learning, but what a fun way to do it. Further details here:
http://www.canoepolo.com/forum/7-ireland
Barrow Descent Oct 29th, 2011
The Barrow Descent was a huge success, with all involved looking forward to it again in 2012. Below is our own "Murt Walsh" powering through the first weir. Murt went onto win the Wavehopper class.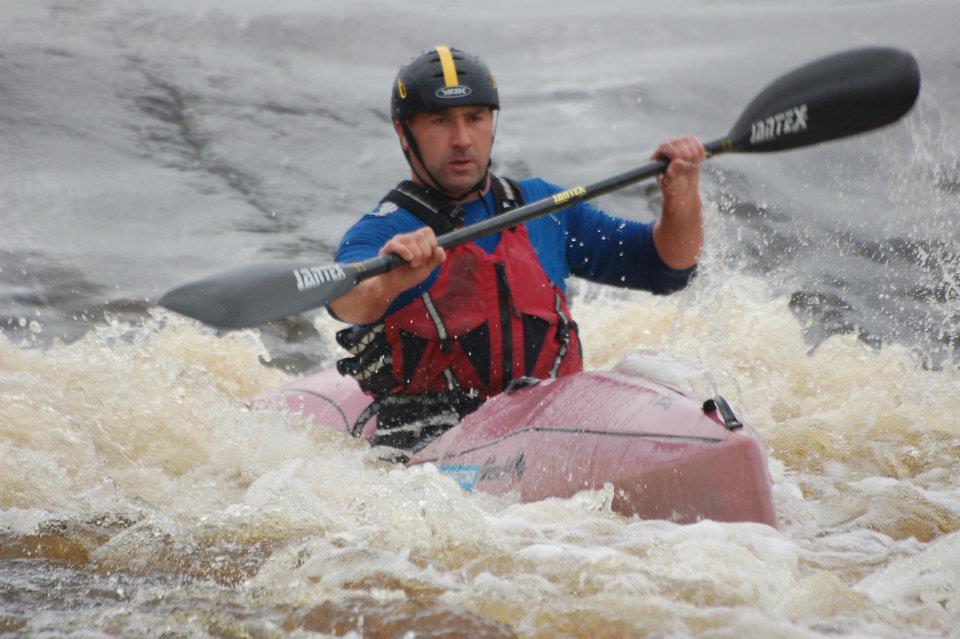 Full details click here
Liffey Descent 2011
Much thanks to everyone who supported our recent table quiz. Also well done to all our members who took part in the 52nd Liffey Descent. Below is a pic of the two Brodericks who took gold in the Boy's and Girl's GP classes. Attached is a report from TPCC at the Liffey. Click here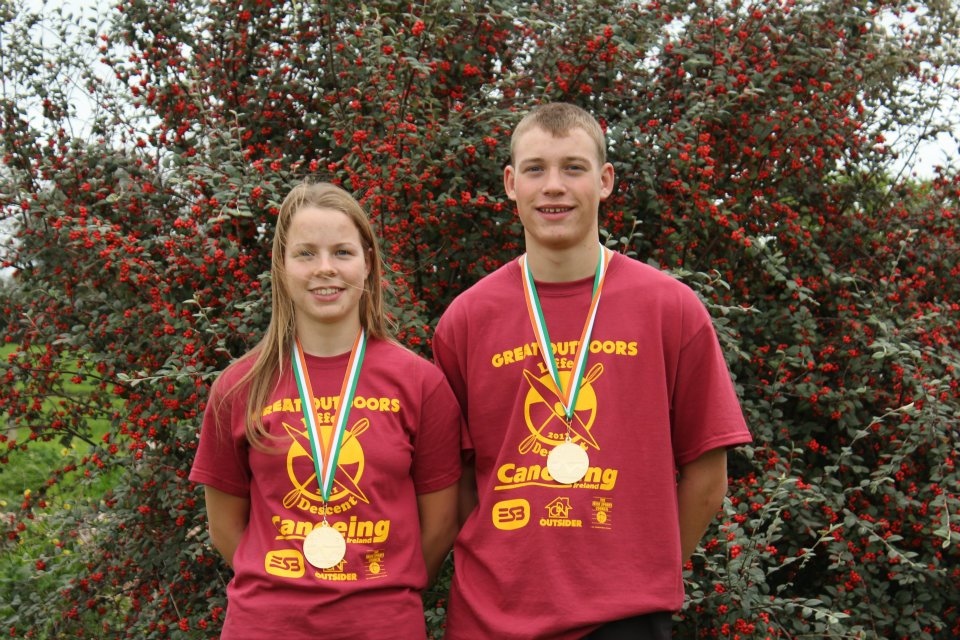 Fun night planned at table-quiz on Friday September 23rd
We are holding a table quiz on Friday 23rd @8PM in the Salmon Pool, Thomastown. A table of 4 is €20 and there will also be a raffle with LOADS of prizes to be won. Get the babysitters in and get down to the Salmon Pool for what will be a great event. For PDF copy of flyer click here.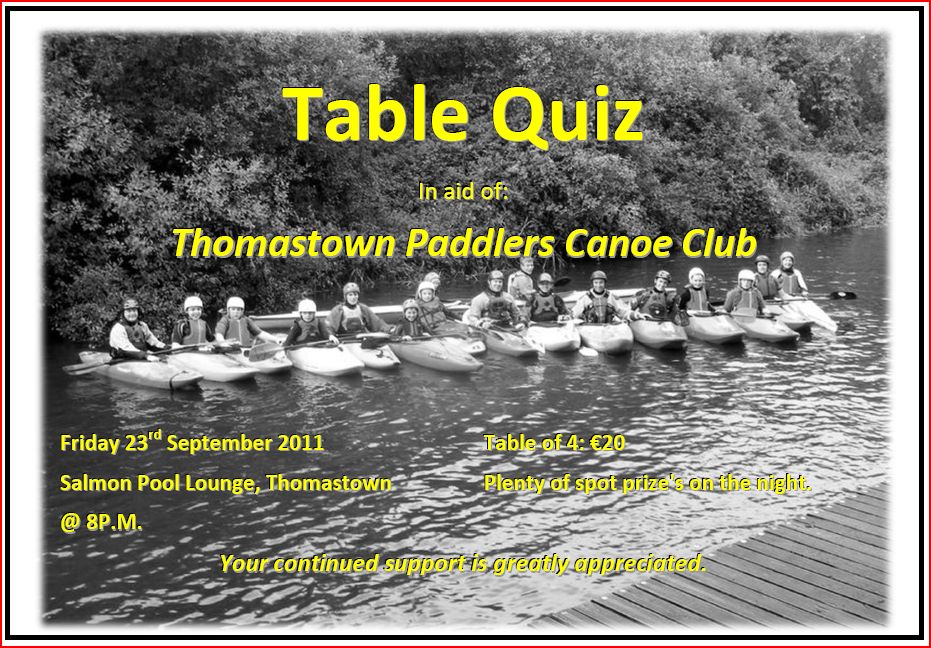 Polo
Thomastown Paddlers competed in their first ever Canoe Polo event towards the end of August at the Irish Open in Galway. All the team have completed plenty of paddling between them down through the years, but this was a totally new experience to them. The team of Mickie and Donnacha Brennan, Tony and Paul Forristal, Enda Butler and David MacCormack competed brilliantly to finish in 3rd place in Division 3. Much thanks to Annie for explaining the rules etc to us in the fortnight before the event. Watch this space.
Racing
Lower Liffey Marathon Oct 8th
Last Saturday a crew of about 10 members took part in the Lower Liffey Marathon. See Dave and Stuart coming through Wren's Nest in the pic beloe and click here for paper report.
Thomastown Paddlers put on a show!
On Sunday August 7th TPCC held the annual canoe race on the Nore, finishing at Inistioge boat-slip. Water levels in the Nore were very low indeed, but all 110 canoeists truely enjoyed their day on the river. Kilkenny People report here and full results here.
Busy July!!
Over the course of July members of the club have certainly been busy both at home here in Ireland and abroad. Mickie Brennan competed at Wild Water Racing events in no less than 3 countries, Germany, Slovenia and France. Anthony Forristal also stopped of in 3 European destinations. He was part of Kayak Sprint Teams who competed in Italy and Spain, before finally racing in the European Marathon Championships in France.
Here at home many of our members young and old competed in the Irish National Championships in Leixlip, which were held by the Salmon Leap Canoe Club. A paper articale can be found here. Below is a picture of a few of our members in action during July.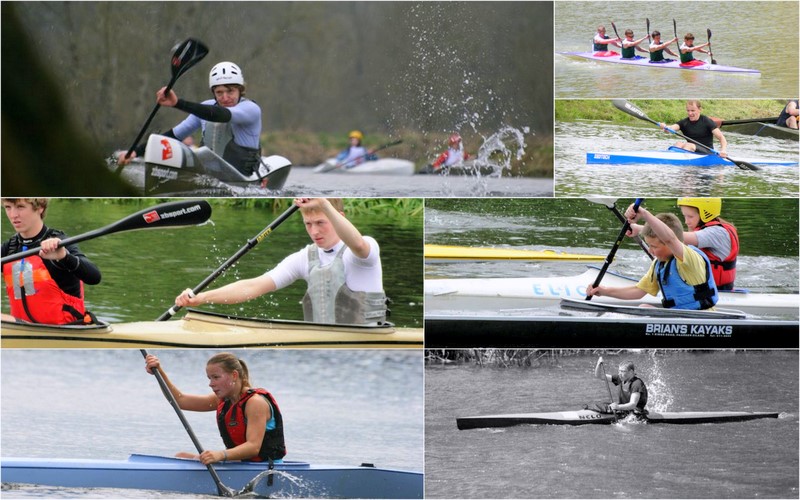 International Success for Mickie and Tony
Members Mickie Brennan and Tony Forristal flew the Thomastown and Irish flag recently at various events across Europe. Both have done themselves, families and club proud. Well done. Picture shows Anthony competing with Iomhar from SLCC. Paper report here.
Junior Liffey Descent 2011
Well done to our 5 juniors who competed extremely well in the Junior Liffey Descent last week. Full Thomastown results and paper articale here. Below is CAit on Wren's Nest Weir.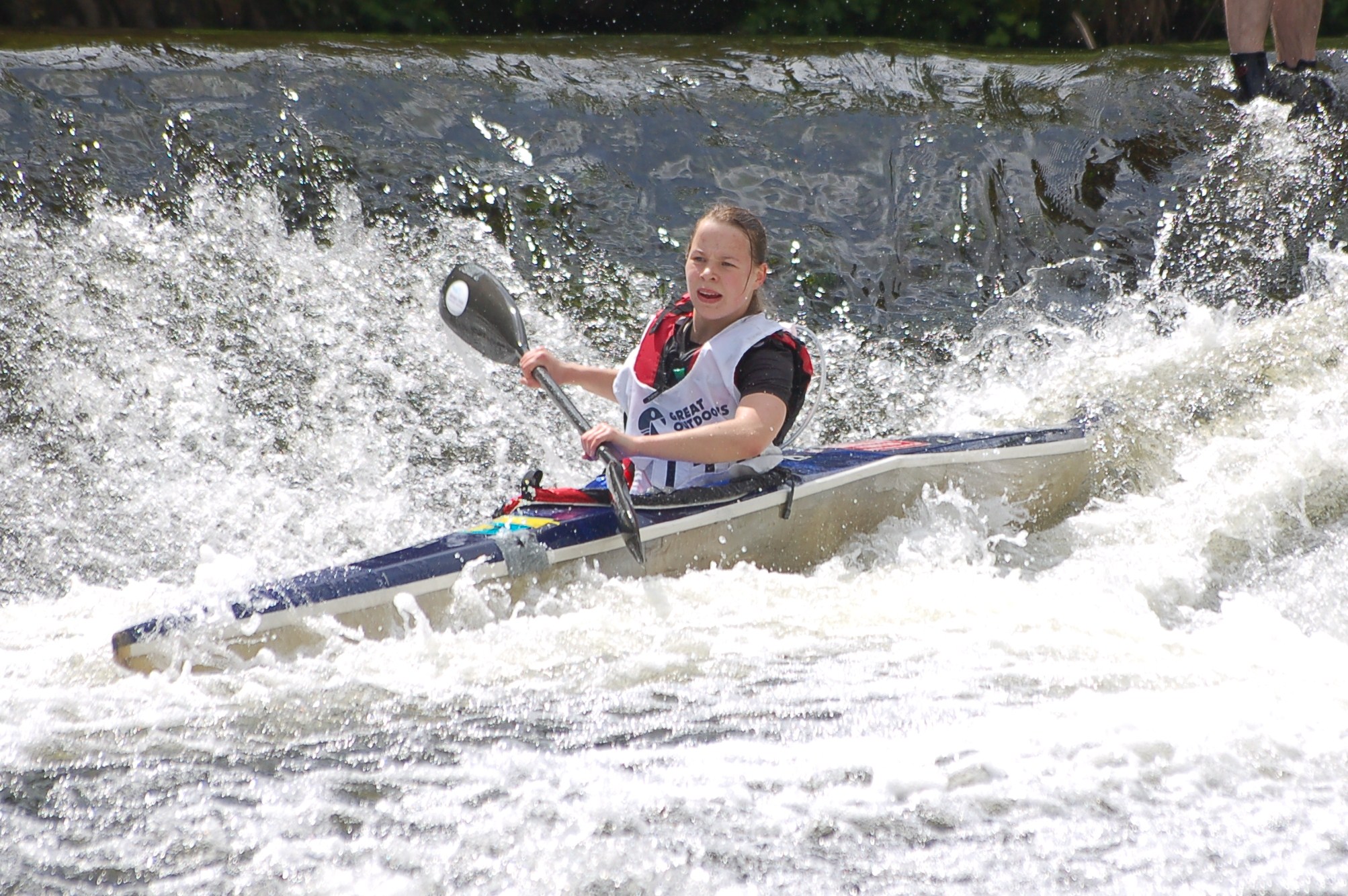 Athy Ranking Race
Full Paper articale here.
Celbridge Ranking Marathon May 8th 2011
Last Sunday a large group from the club attended this ranking race on the grand canal. Result of the day was Mickie Brennan, who notched up the clubs best finish at a marathon race when he finished 2nd in Division 1. Mickie is in the White/Pink kayak to the right of the picture below. Kilkenny People report here.
Thomastown Paddlers Junior Race, Sat May 14th
Our club will host a ranking race on the River Barrow at Graiguenamanagh on the above date. Full details of the event can be found here. All ability of junior racers welcome.